moving in perfect peace and harmony towards Elvisness
My most precious ones,
a whole lot has been going on over here, mercy.
Less than a month left until Quietus—there's going to be a dozen of us, and I'm looking forward to an intimate good time with wonderful people in a fabulous setting.
I've been sick these past few days; I caught the bug Mr Pilgrim hasn't fully gotten rid of yet, a nasty head cold. I'm exhausted.
This was me yesterday, with Potion the nursemaid: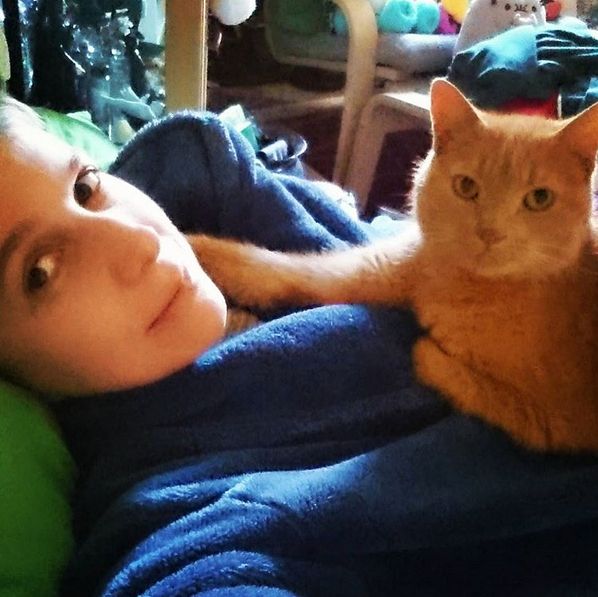 I'm beginning to feel a little better, but it'll take a few more days before I'm over this cold, I suspect.
So, news. Let's see.
I am now a voice in an animated series, Unicorn and Toast, which was created by atheist extraordinaire Peachy Fiend.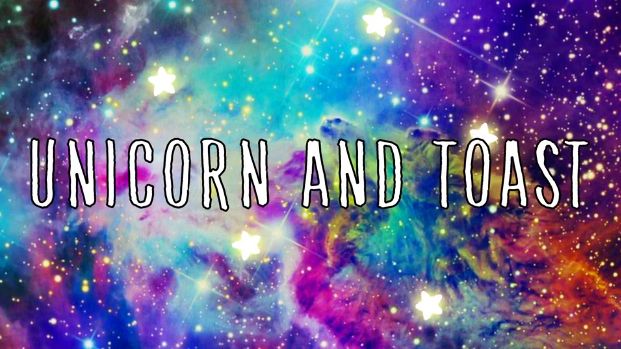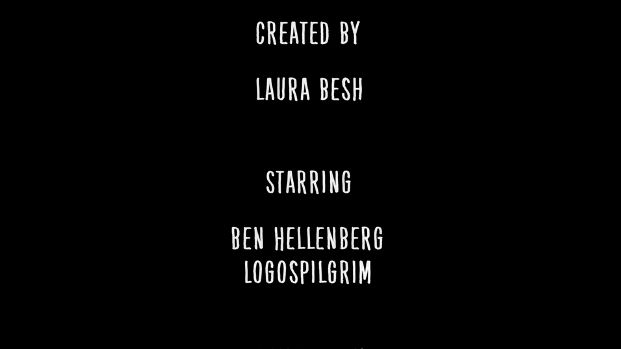 My character is Miss Old Grumbly.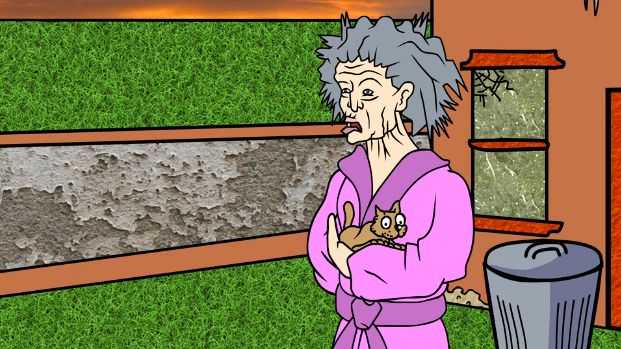 You can watch the episode
here
.
I've been very busy promoting my new book,
Atheist Tiki Hour
, which was published by Atheist Republic. Still only just getting started, but it's already gotten kind reviews.
The book is available on Kindle and in print
here
.
Earlier today, I was completely taken by surprise.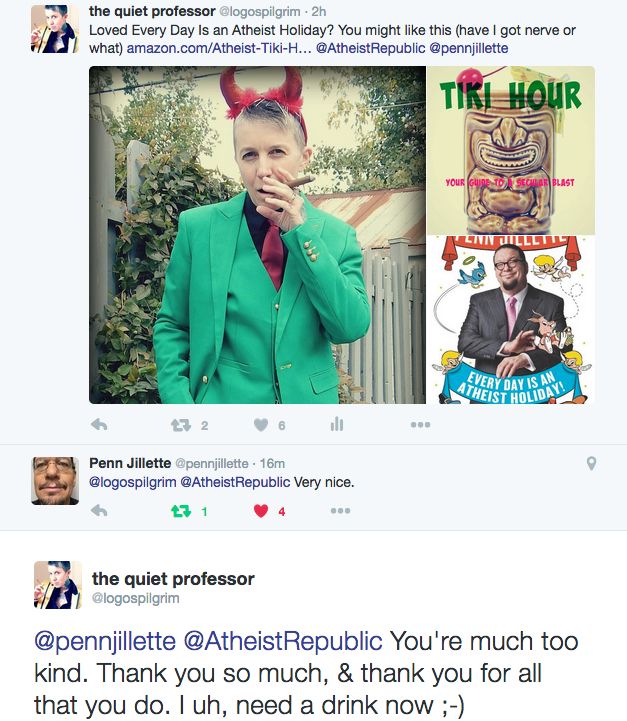 I felt that his book and mine had a couple of things in common, hence my tweet. But he has so many followers that I never thought he'd even see it, let alone reply to it. I love his work and I think he's terrific, so his tweet absolutely made my millennium.
This week, I took a bunch of photos so I could share them on Twitter and elsewhere when promoting the book and so on. Here are some of them... It was suit time.
I got going on the first session a bit late in the day, but in the light of the quickly setting sun I managed to snap a few nice photographs.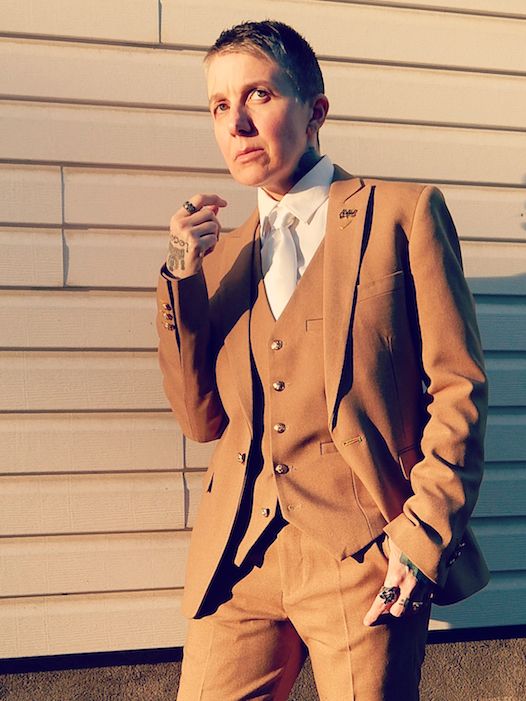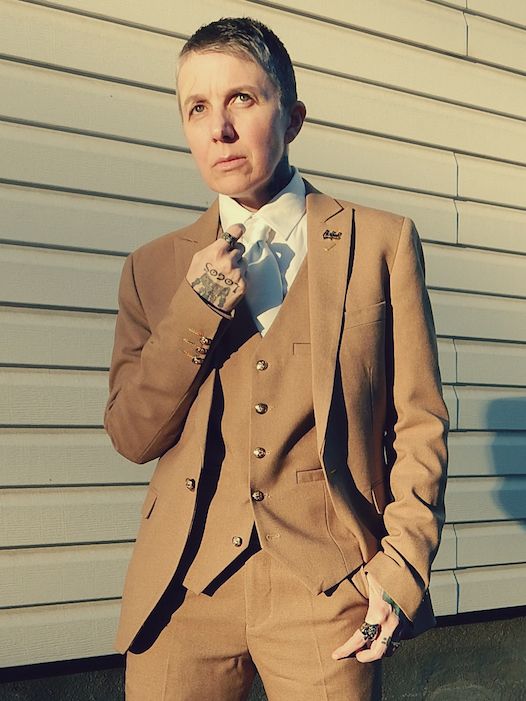 The next day, I began earlier and went outside again, but it was so cold that I soon went back inside, where I took photos in my work environment. The cigar is a Halloween prop.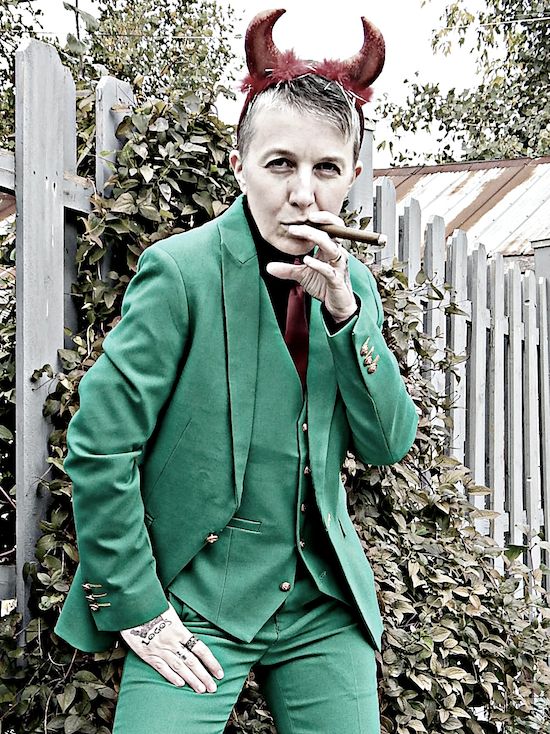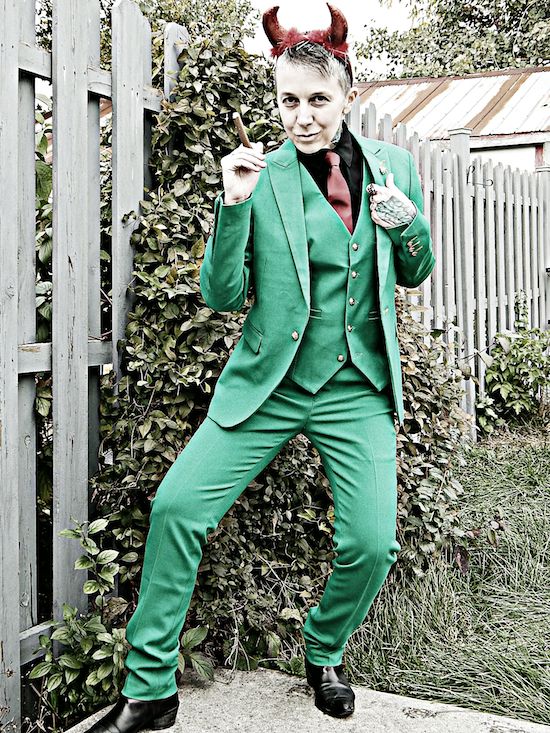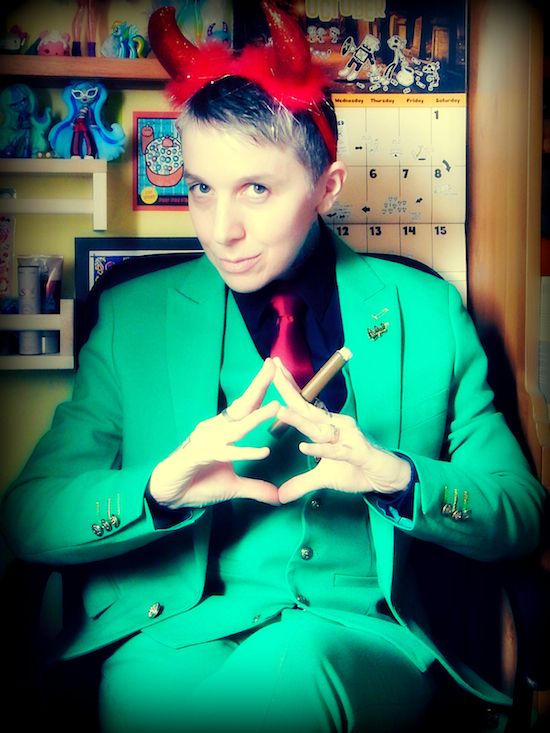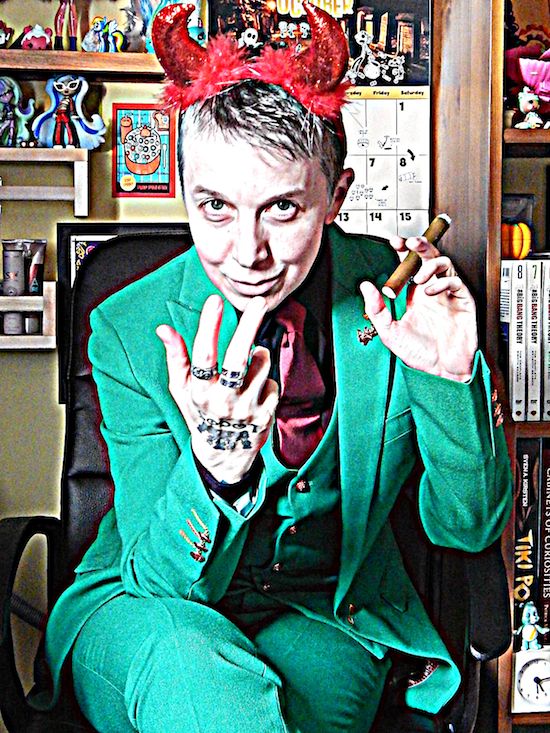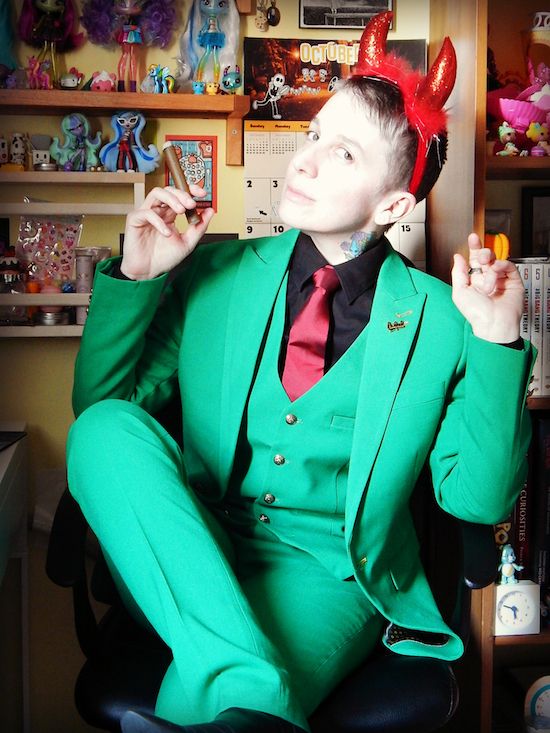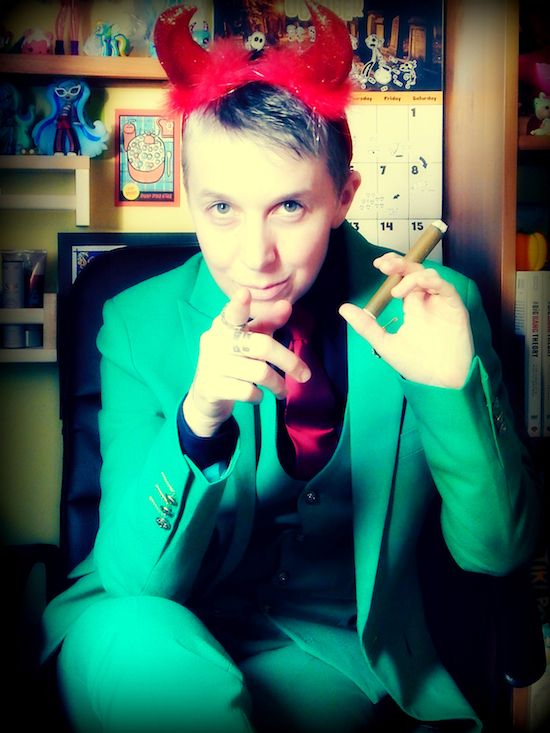 I'll be giving another Center For Inquiry talk at the start of December. I have a podcast interview lined up at the end of November; there might be more. But I'm careful not to overload myself, because I can't take it anymore.
Speaking of which, bedtime.
Your devoted
Logospilgrim, the quiet professor
disposition:

exhausted
moving in perfect peace and harmony towards Elvisness
My most precious ones,
thank goodness for autumn. I need autumn.
I've been working on this book: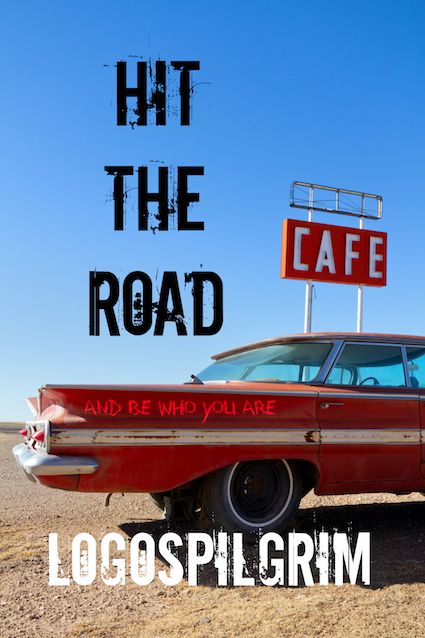 It's a short book, less than a hundred pages. I have a number of short books that I'll be working on in the coming months.
Quietus 2016
is fast approaching. The deadline for registration is October 15. It's looking like there will be around a dozen of us there; I was hoping for a group of twenty or so, but we'll see soon enough... I may do it again in 2018, but right now I'm not sure. I am
really
looking forward to our gathering at the start of November, though. I've been accumulating neat treats for the registration bags.
Here I am, sporting my Unicorn and Toast t-shirt.
Unicorn and Toast
is an animated series created by Twitter friend
Peachy Fiend
. I'm doing the voice of "homophobic old woman" in the first season's second episode (I recorded my lines the other day); she'll be a regular character in the second season.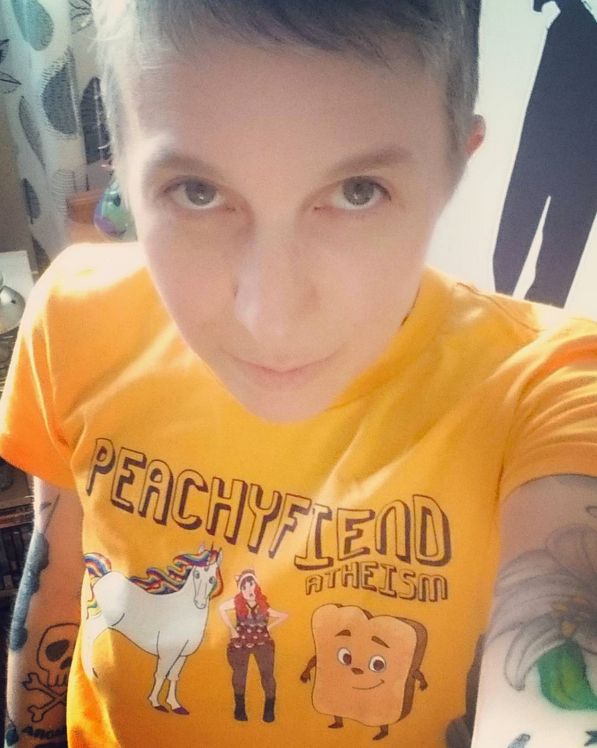 The
Rubber Clown Car
album will be out some time this fall, too. I've begun recording the song; I'll be sending the lads several versions to choose from, and so, song. It sounds like a lullaby, and it's called Sleep Tight.
I've been blogging almost every day over on
Imzy
. I'm having a blast there. It's so lively, and I'm a member of numerous communities, some about toys, others about 70s decor... If you'd like an Imzy invite, let me know.
Otherwise, I'm on
Twitter
and
Instagram
. And
Wordpress
.
It's a good thing everything has been so quiet because I'm exhausted. The other day, hives sprang up on my left side, and the pharmacist gave me hydrocortisone cream. At least it wasn't shingles
again
, fuck. I'm considering getting the vaccine.
I've been saying "no" to a lot, lately. My needs and desires are no longer "bad" or stupid or worthless. And neither am I. I've been saying no to things that hinder my well-being.
Before my trip to the drugstore, I went to the toy store and got a pile of Play-Doh sets, and that cheered me. Ah, the sweet, sweet smell of Play-Doh. Instant bliss.
Sunday, I read this book and laughed and laughed. Oh, how I love the magnificent horridness of the 70s. As I wrote on Twitter the other day, "Why do I love the 70s so much? Jellied shrimp molds, avocado shag carpets, orange furniture, pink toilets: this decade didn't give a fuck."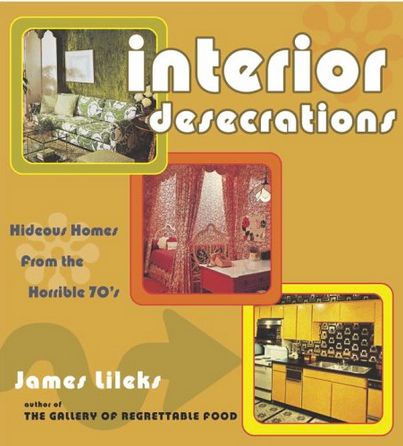 Next month, this book is coming out, and I can't get my hands on it fast enough. It basically celebrates the glorious ghastliness of 70s "cooking."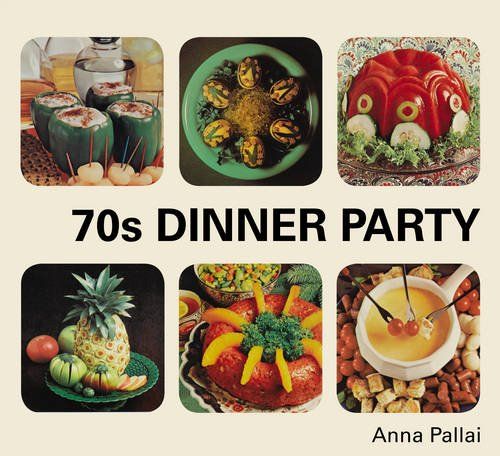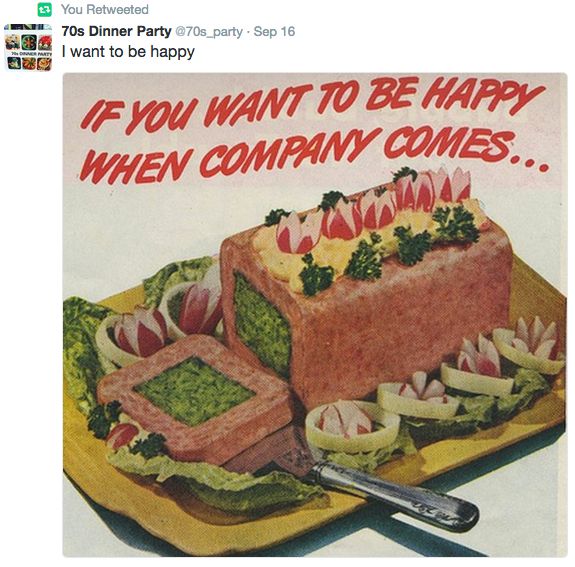 Toys, the 70s, Tiki, 80s New Wave music... That's where I'm at these days.
Atheist Tiki Hour
should be out soon... Casper is still working on it, getting it ready and all that. I sent the file in a format other than a doc (I don't have the software and I'm a dinosaur), and he's arranging it all for me.
And I'm off to tinker. I got Play-Doh toys to organize.
Your devoted
Logospilgrim, the quiet professor
disposition:

exhausted
moving in perfect peace and harmony towards Elvisness
My most precious ones,
Atheist Tiki Hour
is finished. I sent it to the good people at Atheist Republic a few days ago; Casper was very excited. Hopefully, he'll enjoy it!
I've had a lot of fizzy alcoholic drinks and chocolate cream pie to celebrate. I also watched Crimson Peak repeatedly; beautiful film, and that woman with the long, thick, wavy blonde mane... What a vision. Couldn't stop gazing at her.
In other news, I'm on Imzy.
https://www.imzy.com/logospilgrim
It looks like it could be pretty good over there.
As you know, I loathe Facebook; their "authenticity" real name policy is discriminatory and absolute bullshit. I can't stand Tumblr. Ello has too few features to make it practical. Tsu tanked (I wasn't surprised; it was wall-to-wall ads and spam. I stopped using it very quickly).
Imzy seems to have potential as an online community.
These days, I'm mostly on
Twitter
Instagram
and my blogs
logospilgrim.com
apostate island
I no longer use Dreamwidth, and Livejournal is "memories of the way we were," to quote Barbara Streisand.
In other other news, more happy toys have found their way in my collection, and a few more people have signed up for
Quietus 2016
. Registration will take place until the second week of October or so.
I'm about to start
Severus Snape and the Art of Being Human
. As I wrote on Twitter, 'Not essays this time; more like "how Severus Snape helped me get through a lot of shit."'
Oh, and my green three piece suit arrived the other day. It's fabulous. I can't wait to do Tiki Master Snape.
I got a cool t-shirt to support a Twitter friend. Also, the t-shirt is terrific and I love it.
All right. I gotta go do all the things.
Your devoted
Logospilgrim, the quiet professor
disposition:

working
moving in perfect peace and harmony towards Elvisness
My most precious ones,
I finished the first edit of
Atheist Tiki Hour
... This weekend, working on the second edit. Then I'll send the manuscript to my editor at Atheist Republic.
*breathing in a bag*
Yesterday, I woke very early and just lay in bed, sleepless, wondering if the book was crap.
When I made all the corrections to my manuscript after I was done with my red pen, it looked... I don't know. Kind of okay, maybe. Not entirely as shitty as I'd feared.
It's been so hot here, mercy. I've been out of the house even less than usual, which is saying something.
I have lots of terrific Quietus news, though! I'm happier and happier when I think of this gathering, even though I've also felt very nervous and worried I'm in over my head, you know,
what the fuck was I thinking??
but everything is going well, and I'm confident it'll be a lot of fun. Intimate, tranquil fun.
As I've said before, everyone at the Ramada is excited about Quietus. The staff is fantastic.
First, the room block is officially up and running! Attendees can
now make their room reservations
. I've reserved mine; I'll be with
mingbutterfly
again, which makes me very happy.
Also, we have phenomenal guests already!
Lorrie Kim will be giving a lecture and signing copies of her
stupendous new book
: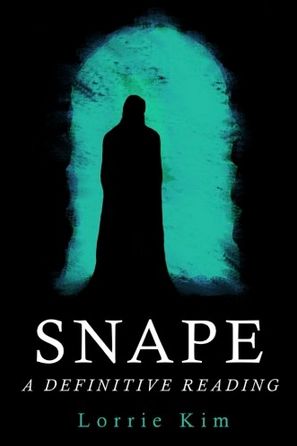 On sunday afternoon, there will be a musical performance by gifted singer and song writer
Errand of Mercy
, who will have copies of her amazing CD. She'll be performing gentle Snape inspired acoustic songs for us.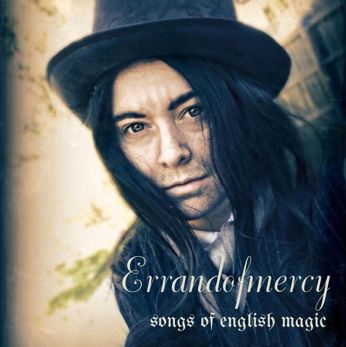 Every time I think about the fabulous room in which we'll be gathered, I get all warm inside. Pretty soon, I'll be buying some plastic cauldrons and boxes of Halloween mini chocolate bars for everyone at Quietus. And little Halloween treats for the registration bags.
I'll do the robes on saturday; the
Tiki Master
on sunday. I won't wear the wig on sunday (one wig day is going to be all I can handle I'm sure), but I may well dye my short hair black.
For all the information about the micro convention, please visit the website:
Quietus 2016
Of course, I can't end this post without sharing a photo of the toy I'm currently on the lookout for; it should hit the toy store shelves soon.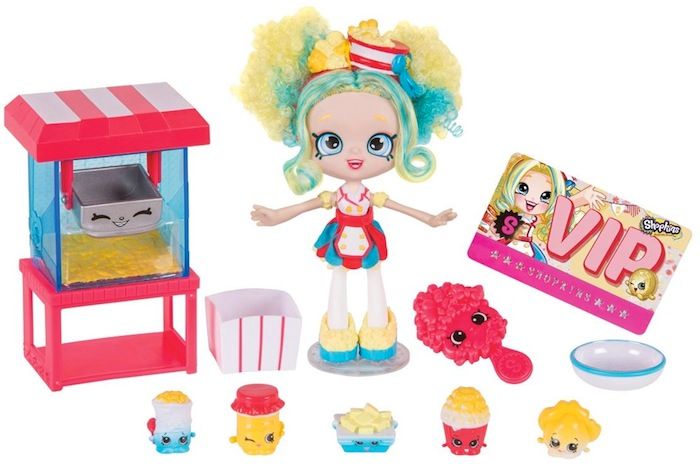 Yesterday, I was thinking about how much I adored the Banana Splits show when I was a kid. Which clearly explains my office.
Let's go do some things.
Your devoted
Logospilgrim, the quiet professor
disposition:

hopeful
moving in perfect peace and harmony towards Elvisness
My most precious ones,
I'm fired up.
I'll have a new book soon, published by Atheist Republic (assistance! Mercy. I can't say enough how good this feels), I enjoyed
Cursed Child
, I'm looking forward to Quietus...
Editing
Tiki Hour
. I need reading glasses more and more these days. Doing without is increasingly exhausting.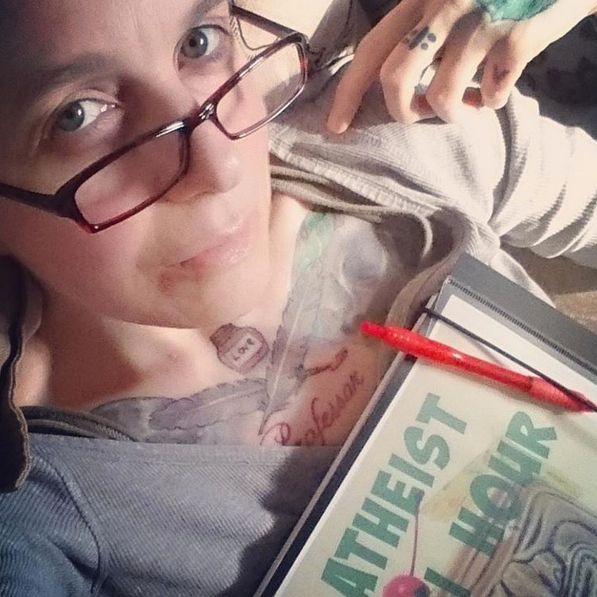 Today, I went ahead and ordered the green three piece suit that I'll be using for my Tiki Master Snape cosplay at Quietus 2016 and MISTI-Con 2017.
I'll have this book here: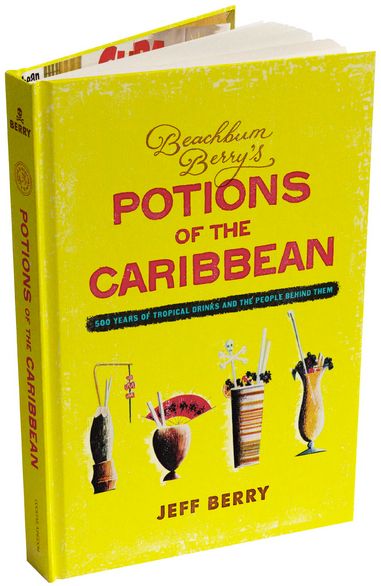 "...the delicate power of liquids that creep through human veins, bewitching the mind, ensnaring the senses."
And this fabulous suit, which I'll wear with a black shirt and silver tie. Or a pale grey shirt and black tie?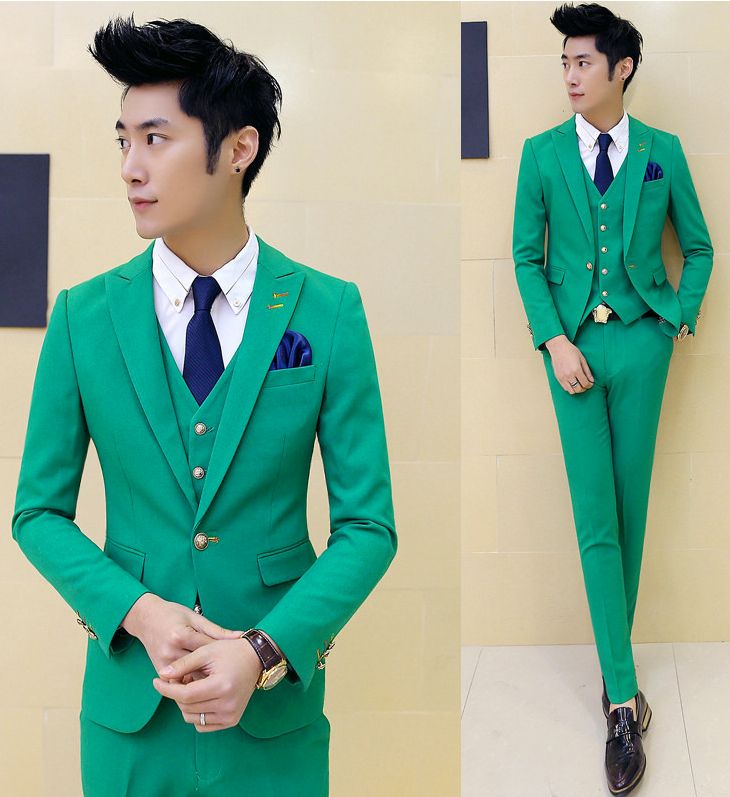 And this. This. I'm ready. I'm good to go. I have much to share, much I need to write. My heart is pumping. I need to write about liberation. I need to honor humanity. I want to write about standing up for true love and rejecting exploitation, rejecting insidious abuse masquerading as love.
More than ever, I want to say, "Don't let them reduce you to nothing."
I did allow this. I let myself be reduced to nothing; I reduced myself to nothing. Not anymore. Never again.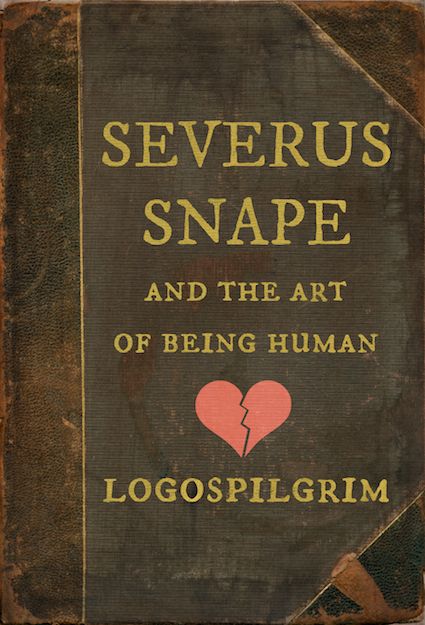 Someone I met when I went to Montreal Comic Con last year (I'm pretty sure it was last year) told me that she recently re-read
Outlaw in the Land of Perfection
and is still crushing hard on Kristopher. That felt fan-fucking-tastic.
Let's go do all the things.
Your devoted
Logospilgrim, the quiet professor
disposition:

productive
moving in perfect peace and harmony towards Elvisness
My most precious ones,
I'm almost done with the first edit re:
Atheist Tiki Hour
. My editor has already told me that he's sure he'll enjoy it and "I can't wait to publish it with Atheist Republic."
Which is so encouraging I could cry.
Aside from working on
Tiki Hour
, I haven't done much.
Tuesday, I'll be speaking with the person in charge of the rooms at the Quietus venue and finally have the block set up—she's been out of town these past couple of weeks. So anyway, I'll be the first to make room reservations once I've gotten everything sorted out with her.
When I think about Quietus, I'm happier than ever, because today, apart from seeing the Absolutely Fabulous movie (which I loved), I got my copy of
The Cursed Child
.
(
Here be spoilers
Collapse
)
Once I'm officially done with
Tiki Hour
, I'll be doing a photo session with the new three piece suit. Then I'll don the robes again.
The other day, I saw boxes with little chocolate bars for Halloween (!!). A tad early, but it did make me think about Quietus, which made me smile. The event room will have bowls—plastic cauldrons, hopefully—filled with chocolate and treats.
And now I need to eat something, and go to bed. I'm tired.
Your devoted
Logospilgrim, the quiet professor
disposition:

calm
moving in perfect peace and harmony towards Elvisness
My most precious ones,
the new book is finished. What it is, I'm not sure, but it's done.
I'll be editing and proofreading it this week and next, then sending the manuscript to Casper, the editor at Atheist Republic. Both he and Atheist Republic have been favoriting my tweets about this, so I'm hopeful that they'll enjoy the book.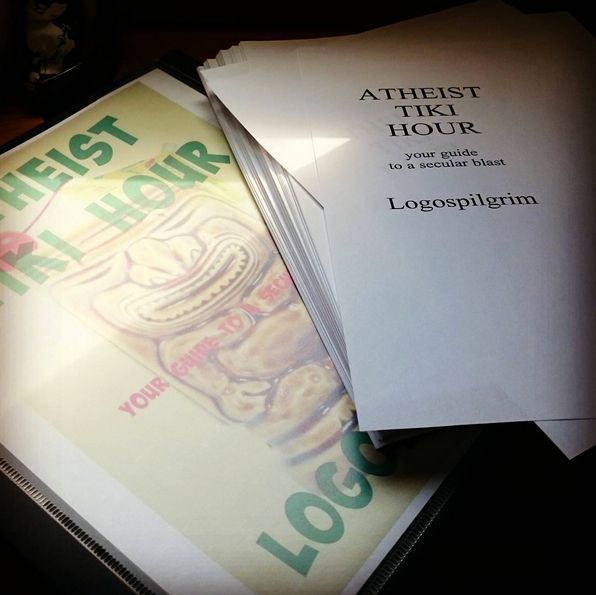 Ready for an apostatically good time?

Join Logospilgrim as she shares her life experiences and raises her glass to offbeat secular living.
I write a lot about the role post-traumatic stress disorder and abuse played in my struggles with religion, and in this book, I'm not sugar coating it, let's say. Although I managed not to marry an abuser, I did have to free myself from an abuser: religion and its derivatives.
Right now, I'm debating whether I'll write
The Rollicking Adventures of an Unrepentant Tomboy
or
Severus Snape and the Art of Being Human
next. I want to write both of them at the same time, but I will pick one, because it's easier for me if I focus on one project at a time. I'm no longer describing the latter as a book of essays about Professor Snape, incidentally. It's going to be like this:
The story of how Logospilgrim's ideas about Professor Snape helped her adjust and evolve as she went through a series of life-altering changes.
In other news, the
Quietus 2016
room block at the Ramada will be set this week. The person in charge of this told me, "We're very excited about your event!" which is quite nice. I'm really looking forward to hanging out in a tranquil, magical room with a small group of wizardly introverts this fall. This is my speed these days. I wanted to see the new Ghostbusters last weekend, but the mere notion of being surrounded by a crowd of any kind made me cringe. I will be seeing it—on a quiet afternoon.
I rescheduled my ink session to next spring (my girl Tiffany is ultra booked), unless something opens up sooner, because apparently I'm developing some good self-care sense, and I'm worn out, too worn out for a five hour session right now.
My happy fort is awash in a wave of new toys. Take a look at my
Instagram
for all the fun.
Here I am with my Slushy Mushie cup. You can find this in one of the four basic tomboy food groups.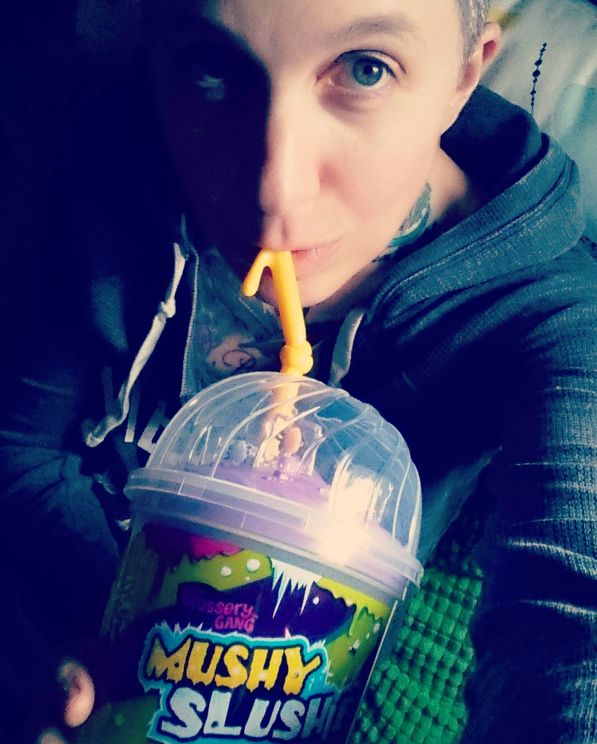 I got this hilarious little guy yesterday. Kidrobot kitty with mustard covered corn dogs. It was in a blind box—love at first sight.
I love my toys so much that I'll no doubt write a long ode to them in
Unrepentant Tomboy
.
Does this world ever need a couple of laughs nowadays. Not to mention a few rational thoughts.
Might be dealing with the crud later this week, who knows, but I can feel it today, boy. I'm exhausted and I'm taking care.
Your devoted
Logospilgrim, the quiet professor
disposition:

tired
moving in perfect peace and harmony towards Elvisness
My most precious ones,
I'm kind of sleepless today, but it's okay.
I'm around thirty pages away from finishing
Atheist Tiki Hour
. It
will
be done by sunday. I'm tired and a bit anxious, but that's always the way it is when I'm on the verge of putting out another book. I've been mixing rum with a thick banana/coconut/pineapple smoothie juice I get at the grocery store, and drinking this from one of my Tiki mugs. It certainly takes the edge off.
The other day, I finally trimmed the lace off my lace front Snape wig. I waited a long time to do this, because I was afraid of totally messing it up. But happily, I didn't.
Afterwards, I took a couple of quick pictures, to see how it looked. I think it turned out all right! It has a nice Deathly Hallows flounce.
Also, the shag is great, but I do much prefer having the option of removing it.
Dramatic Half-Blood Prince is dramatic.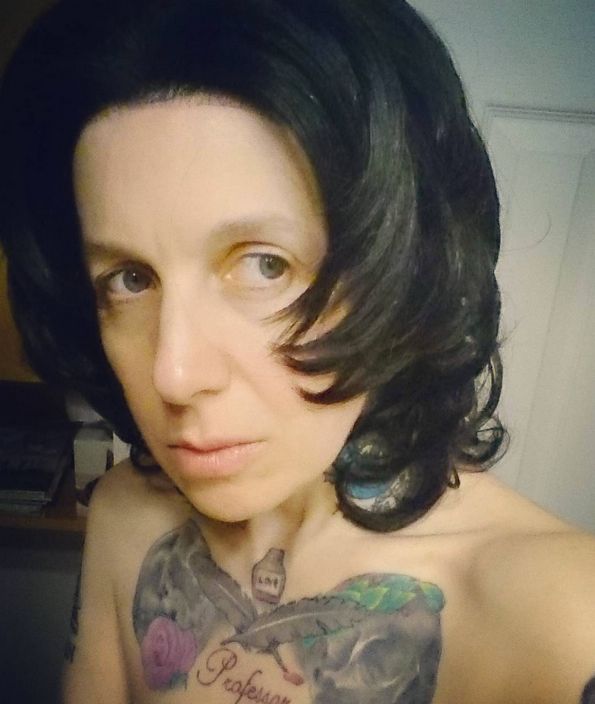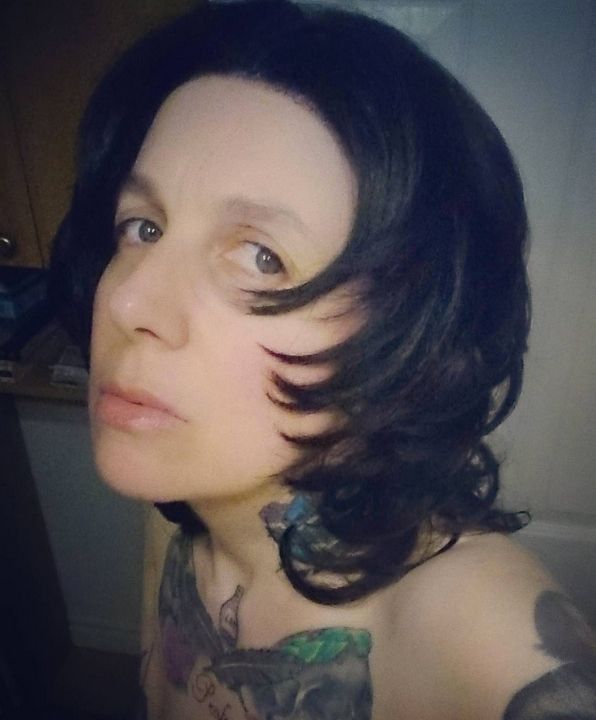 I hope to do a photo session with frock coat and robes in the near-ish future. It's been a while... The silver fleur-de-lys crown is quite dramatic as well, I must say.
Let's see... The Quietus venue is officially booked. I went this afternoon and had a meeting with the lovely event organizer Melanie. The papers have been signed, the deposit has been given. By the end of the week, I'll have the green light for room reservations. Follow the
Quietus website
for all the latest news.
I took photos of the bar area in the lobby, and goodness, it's such a wonderful hotel.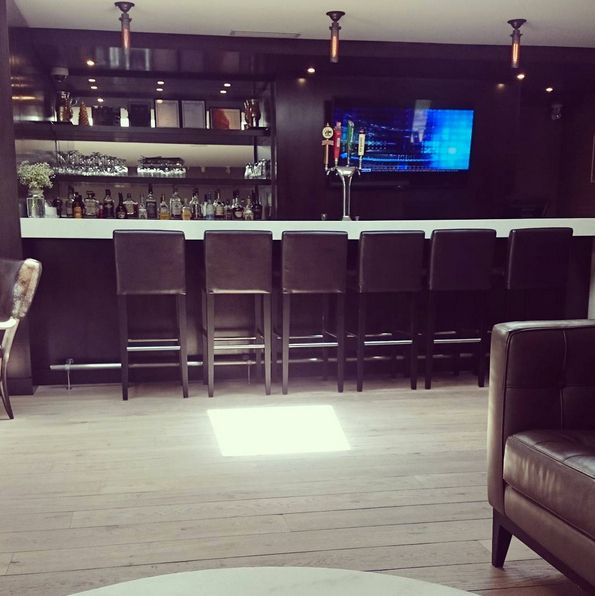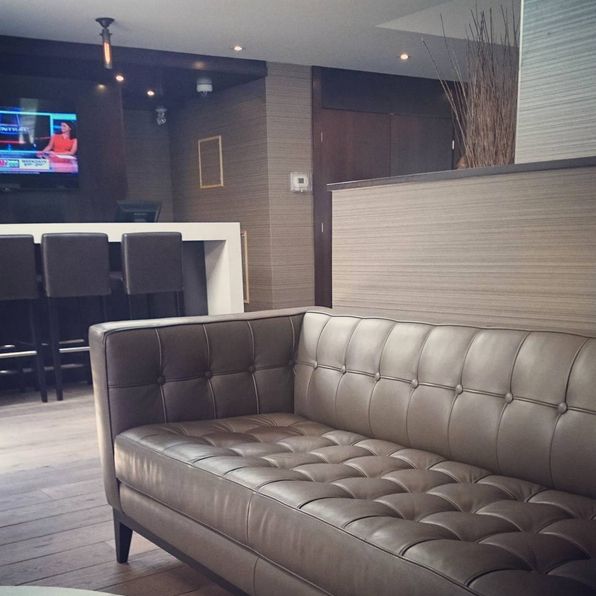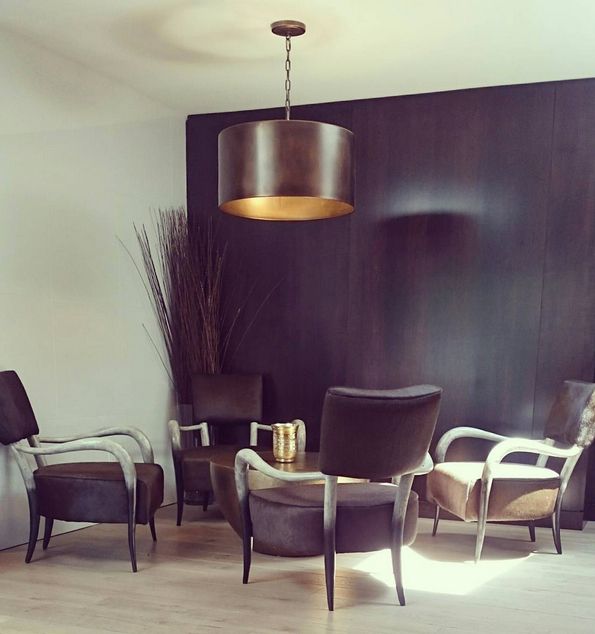 I'd love to have
Severus Snape and the Art of Being Human
finished in time for this gathering. As usual, I can't tell whether I'm pushing myself beyond my limits, but anyway, we'll see if I can do this or not soon enough. If it's too much, the book will be ready in time for MISTI-Con 2017.
I want to get myself another suit like the one I got recently, except light green. I'll carry my copy of
Potions of the Caribbean
with me while wearing this suit, and the wig, at MISTI for sure.
Those of you going to Leviosa, have fun! I'm sorry I won't see you there, but I made the right decision. A big trip right now... The past year was too exhausting. I'm just beginning to recuperate.
Your devoted
Logospilgrim, the quiet professor
disposition:

busy
moving in perfect peace and harmony towards Elvisness
My most precious ones,
I've been pretty busy, though I'm taking care as well, so everything is balanced.
In a few days, I'll be going to the Quietus 2016 venue to give the down payment for the event room. The thought of this intimate gathering makes me smile.
Atheist Tiki Hour
will be done at the start of July. I'm three quarters done. It's going well.
I'm tweeting a lot. Twitter is my happy place. Then Instagram. Then
logospilgrim.com
.
I just created a new website, where I'll be blogging a lot.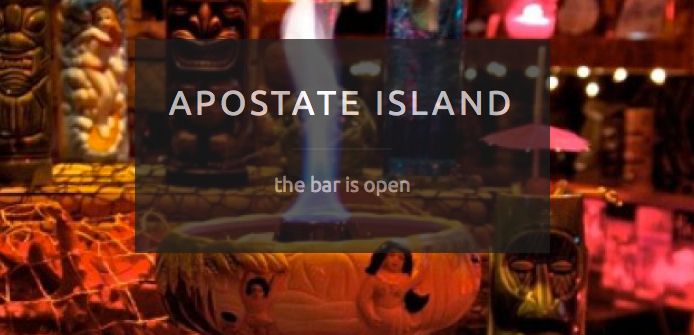 The weather has warmed up again.
I'm over two weeks late, with all the fun that implies.
Like I said, though, I've been taking care of myself.
And on that note, bedtime!
Your devoted
Logospilgrim, the quiet professor
disposition:

sleepy
moving in perfect peace and harmony towards Elvisness
My most precious ones,
I'm halfway through
Atheist Tiki Hour
; I've begun chapter four of seven (not counting the preface). It's going well. I think. I'm about to write at length about the role PTSD played in my life as far as religion is concerned.
I have a meeting at the Ramada Ottawa in a couple of weeks. I'll be booking the
Quietus 2016
event room, signing the papers, giving the down payment, lalala. I'm very grateful to everyone who's been registering early.
The awesome comic strip artist
The Atheist Pig
loves
Hula Girl
.
Moments ago, I read the whole plot of
The Cursed Child
on The Daily Beast. I can't say a single thing about it, because, well, it would be a spoiler, pretty much. I've been speaking and writing about the Potter novels for so long, you're all well aware of my predilections ;-)
I will say this, though... uh... ah no, never mind, even that vague statement would be a spoiler probably.
Twitter glimpses: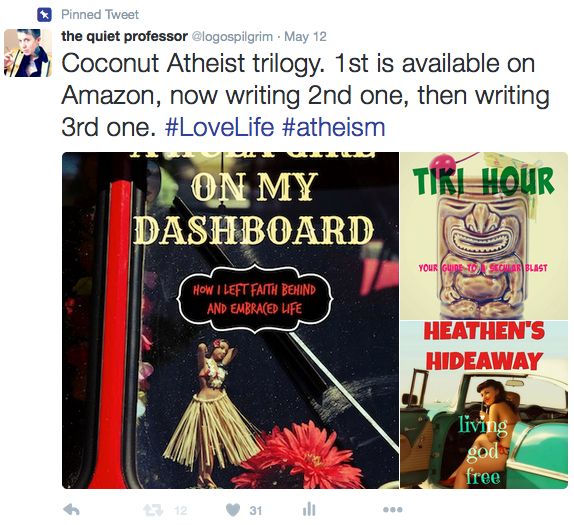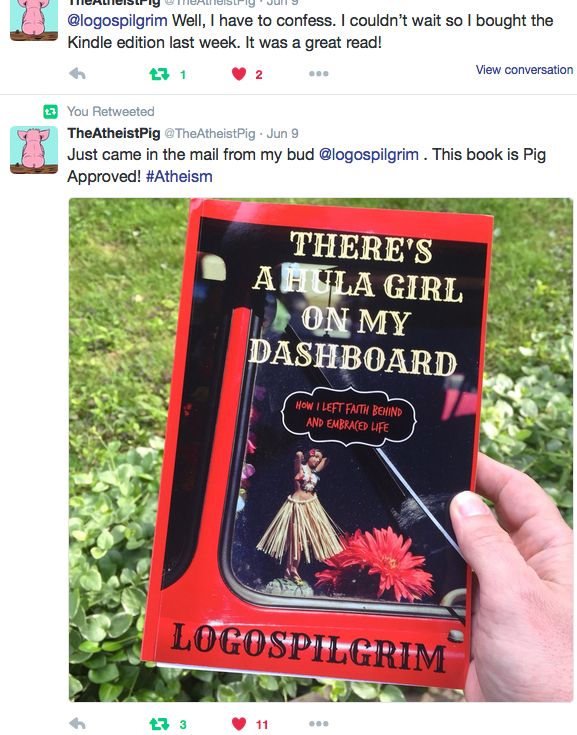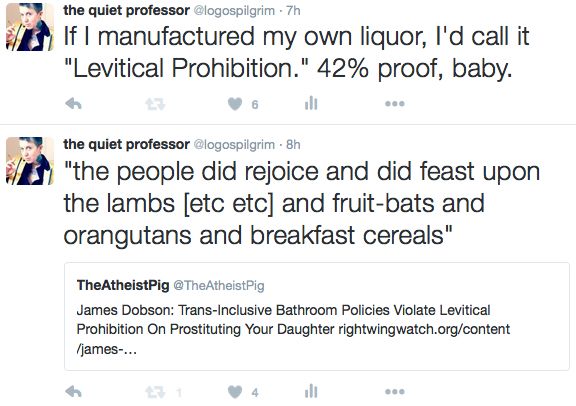 Let's see, what else... I got "Sodas and Shakes" scented Crayola markers the other day.
I found out that there's a fabulous Tiki bar in Toronto, The Shameful Tiki Room. Yes, that is the name. It's a perfect name. They have Go-Go shows, beach bands. I
will
be going there.
I mean,
look at this
:
Oh yes. This calls for some sort of tropical tie. Tiki drinks and sweet burlesque girls, my oh my.
Your devoted
Logospilgrim, the quiet professor
disposition:

busy